If I were to select a crisis capital of the U.S., it probably would be Texas City, Texas. The latest chapter in the tragic story occurred late last night when 300 gallons of hydrochloric acid leaked at a Dallas Group of America facility. Nine people, including four firefighters, were treated at a hospital, and 45,000 residents were ordered to shelter in place.
"Officials did not immediately detail what caused the tank to rupture.... A telephone call by CNN to the New Jersey-based company early Thursday morning was not immediately returned." (
http://www.cnn.com/2012/10/25/us/texas-chemical-leak/index.html?hpt=hp_t3
)
Hydrochloric acid has a variety of industrial uses and is corrosive to human tissue, particularly lungs, eyes, skin, and intestines.
In March, a BP refinery in Texas City dealt with a hydrofluoric acid leak that forced workers to shelter in place. The community was alerted, but no one in the plant or outside was injured. (
http://www.reuters.com/article/2012/03/27/us-refinery-operations-bp-texascity-idUSBRE82Q0R820120327
)
In February 2011, a Magellan Midstream Partners pipeline ruptured, spilling 250,000 gallons of gasoline onto the ground and into Bayou Pierre. The spill closed parts of two highways for several hours and about 30 homes were evacuated. There were no injuries or fires.
These incidents, although serious crises, are hiccups compared to the 2005 explosion at the BP refinery. Employees and contract workers began to fill a tower with gasoline. The tower overflowed, and the excess gas flowed into a back-up unit, which then also overflowed and sent a geyser of gasoline into the air. The plume formed a massive vapor cloud on the ground, and an idling truck likely ignited the fumes. The blast pulverized several office trailers full of workers parked nearby. In all, 15 died and about 170 were injured. (photo from
http://en.wikipedia.org/wiki/File:BP_PLANT_EXPLOSION-1_lowres2.jpg
)
At first, BP blamed operator error and fired six employees. A 60 Minutes story claimed otherwise. "'The problems that existed at BP Texas City were neither momentary nor superficial. They ran deep through that operation of a risk denial and a risk blindness that was not being addressed anywhere in the organization,' says Carolyn Merritt, who was appointed by President Bush to be chairman of the U.S. Chemical Safety Board, the federal agency which investigates all major chemical disasters.
"'These things do not have to happen. They are preventable. They are predictable, and people do not have to die because they're earning a living,' Merritt says. Asked if she thinks this accident could have been easily prevented, Merritt says, 'Absolutely.'" (
http://www.cbsnews.com/8301-18560_162-2126509.html?pageNum=2&tag=contentMain;contentBody
)
"BP was charged with criminal violations of federal environmental laws, and has been subject to lawsuits from the victims' families. (OSHA) slapped BP with a then-record fine for hundreds of safety violations, and subsequently imposed an even larger fine after claiming that BP had failed to implement safety improvements following the disaster." (
http://en.wikipedia.org/wiki/Texas_City_Refinery_explosion
)
BP's explosion was outdone in 1947. "Longshoremen removed the hatch covers on Hold 4 of the French Liberty ship Grandcamp as they prepared to load the remainder of a consignment of ammonium nitrate fertilizer. Some 2,300 tons were already on board." (
http://www.local1259iaff.org/disaster.html
)
In comparison, Timothy McVeigh destroyed the Alfred P. Murrah Federal Building in Oklahoma City with 2.5 tons of ammonium nitrate.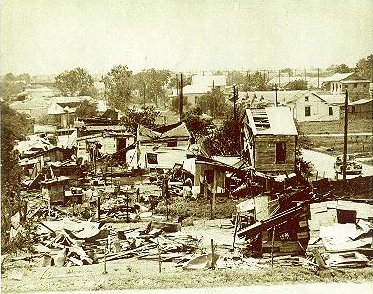 Smoke, then flames broke out in the ship's hold. "A thick column of orange smoke billowed into the morning sky. Attracted by its unusual color and the sirens, several hundred onlookers began gathering a few hundred feet away from the head of the ship....
"The Grandcamp disintegrated in a prodigious explosion heard as far as 150 miles distant. A huge mushroom like cloud billowed more than 2,ooo feet into the morning air, the shockwave knocking two light planes flying overhead out of the sky. A thick curtain of steel shards scythed through workers along the docks and a crowd of curious onlookers who had gathered at the head of the slip at which the ship was moored. Blast over pressure and heat disintegrated the bodies of the firefighters and ship's crew still on board. At the Monsanto plant, located across the slip, 145 of 450 shift workers perished. A fifteen-foot wave of water thrust from the slip by the force of the blast swept a large steel barge ashore and carried dead and injured persons back into the turning basin as it receded. Fragments of the Grandcamp, some weighing several tons, showered down throughout the port and town for several minutes, extending the range of casualties and property damage well into the business district, about a mile away. Falling shrapnel bombarded buildings and oil storage tanks at nearby refineries, ripping open pipes and tanks of flammable liquids and starting numerous fires."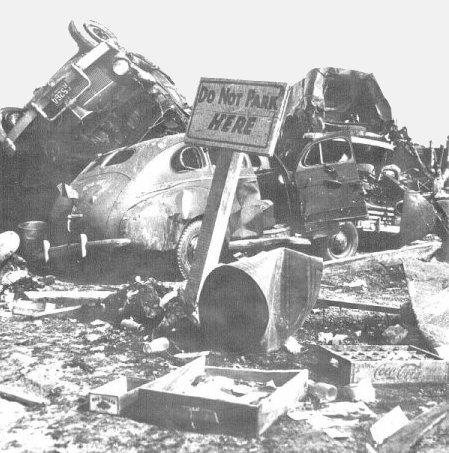 The High Flyer was docked next to the Grandcamp and was loaded with sulfur and 1,000 tons of ammonium nitrate. The High Flyer later caught fire and exploded, but by then, most survivors had been moved from the dock area. (Photos from
http://www.local1259iaff.org/disaster.html
)
"The Red Cross and the Texas Department of Public Safety counted 405 identified and 63 unidentified dead. Another 100 persons were classified as 'believed missing' because no trace of their remains was ever found. Estimates of the injured are even less precise but appear to have been on the order of 3,500 persons." One third of the town's 1,500 homes were destroyed.
One doesn't need to be surrounded by tons of hazardous materials to be hit with a crisis. Relatively small quantities of materials such as ammonia, chlorine, oil, solvents, dust, paint fumes, and more can cause crises. Materials used and stored at neighboring facilities can have just as big an impact on you. Your crisis communications plan has to account for hazardous materials igniting or finding their way to places they shouldn't be.